"Railway Series - The Mid Hants Railway (Watercressline) Revisited"
NEW RELEASE - JUNE 2016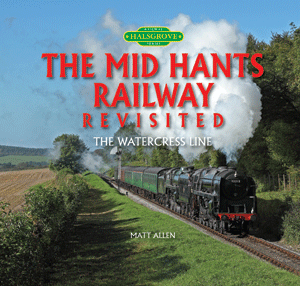 "This book takes a return trip to the Mid Hants Railway, commonly known as "The Watercress Line", to see what has changed since Matt Allen's original book on the line was published by Halsgrove in 2007.
There is no better sight than a superbly restored steam locomotive in action and the Mid Hants Railway is one of the best heritage railways in the UK to see this happen, with its steep gradients ensuring the locomotives have to work hard.
The Mid Hants is one of the many railways that fell foul of the Beeching review and was closed by British Railways in 1973. However a determined band of volunteers who were keen not to see this line fade from history set about preserving and rebuilding it to its former glory.
The line was partially re-opened from Alresford to Ropley in 1977, extending to Medstead in 1983, and in 1985 Alton followed, finally connecting the railway back with the mainline. It is now, one of the UK's premier heritage railways and one of Hampshire's biggest tourist attractions.
Matt Allen has used his local knowledge of the railway to showcase over 150 spectacular photographs which capture the essence of what the railway is all about. The line continues to develop and evolve, which means for the photographer and the returning visitor there is always something new to see.
Throughout this book you will see the locomotives that haul the passengers along the 10 mile journey; the people who give up their time to make it all happen; the sympathetically restored stations and even the author's 1964 Triumph 3TA motorbike being used a scenic prop".
Available from all good bookshops and the usual online book retailers.
Imprint: Halsgrove. ISBN 978 0 85704 285 9, hardback, 214x230mm, 144 pages. Published June 2016.